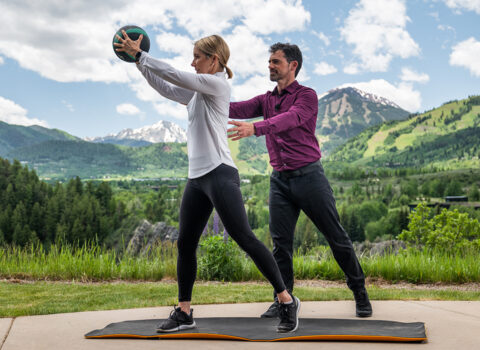 YOUR STEP-BY-STEP GUIDE
FOR AN ACTIVE, HEALTHY LIFE
FITFOREVER is a video-based exercise program anyone can do, regardless of age, physical limitations or fitness level. It's designed by leading doctors and physical therapists, and it's easy to follow from home.
WHAT IF YOU COULD FEEL YOUNGER
AS YOU GET OLDER?
You can – and you WILL – with FITFOREVER
STAY ACTIVE

AVOID PAIN
AGING IS INEVITABLE.
FEELING OLD IS A CHOICE.
At FITFOREVER, we believe your best years are ahead, regardless of your age. We've seen it, we live it, and we've created a guided program to help you get stronger, move better, and live life on your terms.
IT STARTS WITH A SIMPLE UNDERSTANDING.
That you can do this. You can get in shape. You can correct years of deficiencies. And you can get better as you age.
STEP 1

PERSONALIZED SELF-ASSESSMENT

This helps us learn exactly what your body needs so we can create a customized daily plan, built just for you.

STEP 2

LEARN HOW TO MOVE THE RIGHT WAY

You'll understand how to move your body in healthy ways to stay strong, mobile, and pain free for years to come.

STEP 3

ACCELERATE CHANGES YOU'LL FEEL

Most of our members feel a difference in just one week. After establishing healthy movement patterns, you'll start getting stronger in a safe, effective way.

STEP 4

STAY FIT ... FOREVER

Our program doesn't require a change in your lifestyle, but it will change your life. You'll be amazed at how much better, stronger, and more energetic you'll feel.
FITFOREVER was started by renowned pain specialist, former director at the Aspen Club Back Institute and co-author of the Younger Next Year Back Book with Chris Crowley, Dr. Jeremy James.
Our mission is simple: To help you live an active, healthy lifestyle for as long as you're alive.
FITFOREVER's team of leading doctors, physical therapists, and sports performance experts won't just help you get in better shape, you'll get educated along the way to become your body's own best advocate.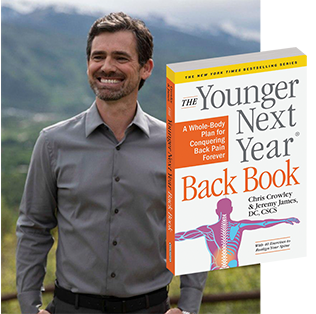 TO SAY WE'RE NOT YOUR TYPICAL FITNESS PROGRAM IS AN UNDERSTATEMENT.
We know "getting in shape" can be daunting, confusing, and leave you wondering how to *actually* see results.
That's why our program guides you every step of the way. You can access FITFOREVER on any device, and consult our customer service team anytime with questions.
IT JUST TAKES THAT FIRST STEP. WE'LL PROVE THE REST.
"Life after 40 or 50? Your body can go to hell. Or you can have a hell of a time. PICK ONE. You'll likely live deep into your 80s, regardless. The difference is whether you live in joy or despair.  It's almost entirely up to you, so get fit the right way – with FITFOREVER."
Chris Crowley | NYT Best-Selling Author
Younger Next Year Series